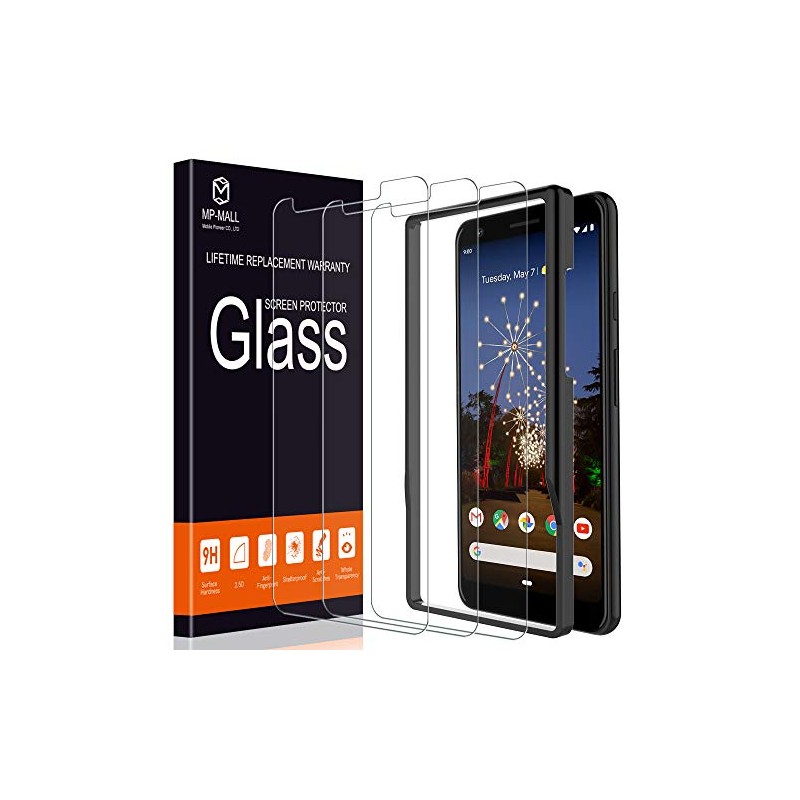  
MP-MALL [3-Pack] Screen Protector for Google Pixel 3a, [Alignment Frame Easy Installation] [Case Friendly] Tempered Glass with L
MP-MALL [3-Pack] Screen Protector for Google Pixel 3a, [Alignment Frame Easy Installation] [Case Friendly] Tempered Glass with Lifetime Replacement Warranty
Security policy (edit with Customer reassurance module)

Delivery policy (edit with Customer reassurance module)

Return policy (edit with Customer reassurance module)
Please Note: Due to the curved-edge design of the Google Pixel 3a, our screen protector is made to be a little smaller than the actual screen of your device. This is to prevent the protector from overlaying these curved edges which can lead to unwanted bubbling and peeling up around the edges.

This Glass Screen Protector Fits For Google Pixel 3a. NOT For Google Pixel 3 Lite XL / Pixel 3a XL.

MP-MALL Glass Screen Protector Features:
-100% bubble-free silicon adhesives
-99% highest transparency
-9H HARD-COATED scratch resistant protection
-0.3mm Ultra Thin
-All 2.5D Round Edge

MP-MALL Lifetime Replacement Warranty:
Thank you for choosing MP-MALL. If any of the following problems occurs, replacements will be resent for you without any charge:
-Installation problem such as bubbles or other user error
-Damaged screen protectors
-Does not fit your device

MP-MALLl Screen Protector Kit Includes:
- MP-MALL Tempered Glass Screen Protectors x3
- Wet / Dry Wipes
- Dust Collectors
- Removing Tapes
- Bubble Remover Clear Plastic Square Card
★ Include 3 PCS Tempered Glass Screen Protector, very easy to install. Only fits for Google Pixel 3a. (NOT For Google Pixel 3a XL) ★ Provide maximum protection from drops, scratches, scrapes. High quality premium tempered glass with polished, rounded edges. ★ 9H Hardness, 99.99% transparency preserves the original screen brightness. ★ Adheres to the phone's screen without any gaps or bubbles, leaving the touch sensitivity unaffected. ★ Protected by MP-MALL No-Hassle Lifetime Replacement Warranty. ATTENTION: Please watch our installation video for a better result.